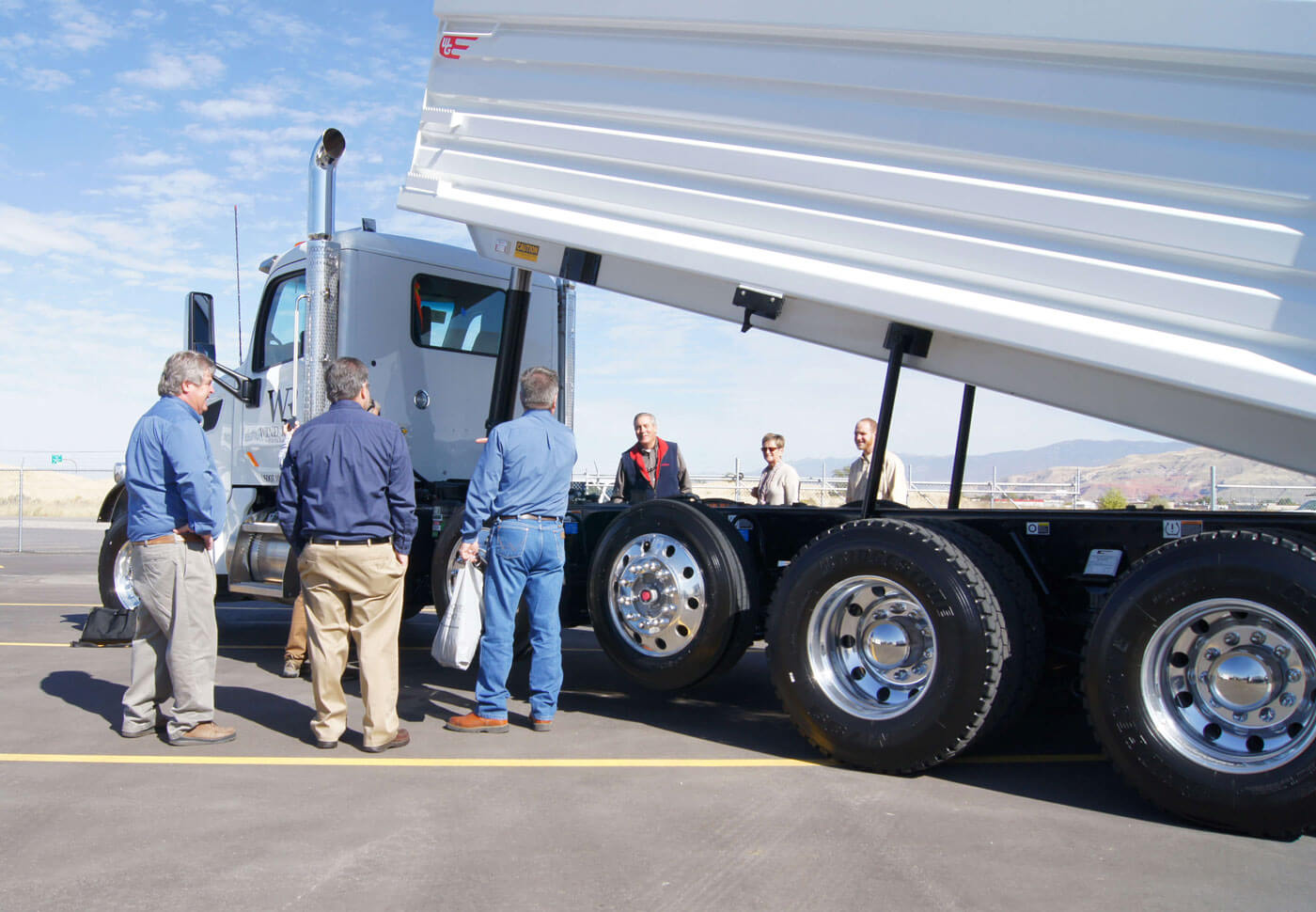 No other company in the dump body industry compares to The Godwin Group. Our unsurpassed buying power was achieved through decades of close vendor relationships and absolutely flawless payment records. Why does this matter to customers? Because buying power equals value. Godwin companies are able to purchase extremely high volumes of components and raw materials with a self implemented "pay upon receipt" policy. This policy allows us to maximize early pay and bulk price advantages. This also allows us to buy direct from manufacturers and steel mills for additional cost savings. The value to the customer is that we pass those advantages to our finished products. For instance, a competitive company who has to purchase their components and raw materials on credit, through middle suppliers, or at smaller quantities will pay much more. This is also passed down to their products. In order to compete for the same business, a competitor may have to cut corners or use lower quality (cheaper) materials to get within the same price point. Even so, we may not always be the cheapest, but we will certainly have the superior value when you compare the products.
Highest Quality Materials and Components
The Godwin Group maintains a position high in the market by manufacturing products from the highest quality materials. Godwin believes that dump bodies are only as good as the materials they're made from. The use of quality materials allows for higher precision engineering, superior build quality, superior durability, and longer life of the product. Unfortunately, many dump body customers are unfamiliar with the specific materials used to manufacture their products, and the importance of using certified material. This is where the "value for the dollar" most benefits the customer. Godwin companies absolutely REFUSE to use uncertified and/or secondary materials to manufacture truck equipment. Mill certification documentation is available with every load of steel, aluminum, and stainless steel we purchase. Customers can rest assured they'll get what they're paying for because we can prove it everytime. If a company isn't using mill certified material, it could be pretty much anything. For example, some competitive companies may be close in price for a similar product. Upon closer inspection however it is common that the manufacturer built the body from A36 steel (36,000 - yield strength) rather than Godwin's minimum standard of A572 GR 50 steel (50,000 - Min yield strength). That's nearly 30% less strength and durability for the same price! In the instance that materials are the same, we still add superior value in other ways. One being our industry leading powder coat paint and zinc primer. With a lab tested minimum 4000 hours corrosion protection using ASTM D1654 accelerated salt spray test, NO ONE comes close for the money. Industry standard is 2000 hours. Buy for value and you'll never regret it.
Family Owned and Operated Advantage
With three generations currently working in our company and a fourth about to begin, the business is as much a part of our family as anyone. This is also beneficial to customers. We take great pride in our craft and are determined to provide the best customer service possible. Being family owned and operated means something. It means we eat, sleep, and breathe what we do. Working for our business isn't just a job. It's a legacy. Our policy is to treat customers the way we expect to be treated. Our goal is to develop and manufacture the most innovative and highest quality products available in the industry. The biggest advantage that we can pass on to our customers is that they are the only ones we have to please. As a privately owned company, we aren't beholden to Wall Street. We reinvest profits back into the company rather than line the pockets of faceless investors. Our employees are vested in quality workmanship through profit sharing rather than cycled through with low wages and minimum benefits. We treat our employees like family. This means our customers take ownership of superior products that were built with pride by people who really care about what they're doing. We wouldn't put our name on anything less.